Don't you love summer dresses!? I do. I wish I had more space to hang them up, because I hate getting rid of any of the old ones. Just in case, right?
Anyways, I have had a few fabulous finds lately that I wanted to share with you guys!
I got this dress at Windsor! I never shop at Windsor usually, but I glanced in, saw tons of cute stripey maxi dresses and couldn't resist this one below. Isn't it adorable? I thought it would be a great beach date night outfit, or summer party, or perhaps on a summer trip! We might be going to Jamaica later this summer, so this would be really fun to wear there - with flip flops or black and cork wedges! It was only $45 and you can find it
here
. The back is really different and fun! I have never owned anything like that.
Popped into Anthro on my birthday and saw this dress. I was dying over it! I have no idea what I will save it and wear it for, but I am so in love with it. It is a thick soft stretchy material that looks amazing on! It was $118, called the Poppy Striped Dress. My girlfriend suggested that I needed to go to a fabulous LA museum and do lunch in this dress. I am excited to wear it! Check it out
here
.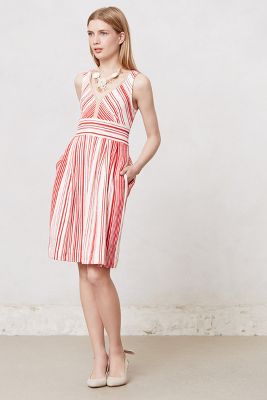 And, I wasn't sure if I was going to find this one online, because I got it from a little boutique (for about $65 I think) - but I searched and found in on Zappos of all places! Check it out
here
. Looks like I got a great deal, right!? I love it because I don't surprisingly own a lot of pink clothing, especially dresses, and this was another one that would be so fun for Jamaica or for going out in this summer with some bronzer on and a tan. The top is criss-crossed and the weight of the dress is a nice jersey cotton material, that is thick and substantial feeling. I can't wait to wear this one too!
I hope you enjoyed the post and I would love to see some of your fun summer finds as well!