I am a grown ass woman. I am 36 years old. I have been around the block.. in the sense that I went from having a strong, fit body (and mind!), so being very ill for years on end. I was down to a very unhealthy thin weight at my sickest. Now, thanks to modern medicine, I am doing SO much better. I have also gained weight, half of it is healthy and the second half is extra... and guess what? I am OK with that.
I know this a post about swimwear, but I am going to get a little bit deeper today - which I actually do QUITE often in my personal life, but I try to keep my blog light and fun and shopping and beauty and all of the fun things. But, life is life, and things get really real when you gotta go swimwear shopping after gaining LOTS of sizes in clothing and having a new body to buy a swimsuit for! If you are a Mom, or have ever gained or lost weight for ANY reason, I am sure you can relate!
I used to actually kind of HOARD bikinis. I don't know why. I just liked to have a variety, and you never know what you are going to feel like wearing on vacation or how bloated you might be from eating and drinking and lounging! Also, the trends and the seasons change, the styles change, depending on what your destination is you might wear a different suit, you can never really sell a nice swimsuit after wearing it, and you know.. breaking up and donating or tossing is just hard for me to do sometimes. Also, I might see the suit online and think I am going to look like the photo or the model if I buy it. Which doesn't happen. So I keep buying.
So, I have some trips coming up this year and spring is around the corner (that is crazy to say!). I bought some one pieces last year when I went to Los Cabos, Mexico with James and his family, because frankly I did not fit in any of my old bikinis anymore, and I did not feel comfortable exposing all that skin! I felt like the one pieces I was wearing there were too big though! I got some cute ones from Macy's, Target, and TJ Maxx, I think. Too much fabric hanging off of me though, and it made me feel heavy from the water, like I had clothes on in the pool. So, I visited Nordstrom a few weeks ago, and after a marathon dressing room situation, in which my sweet Mom was called in to peek at everything, I left with nothing. I repeat, I bought nothing!
I wish I could work out like I used to. I wish I could eat as healthy as I used to. I am working on it. I lack a lot of energy and I missed a lot of life. I don't love going up in jeans sizes, but I love feeling better. I used to tell my family that I would "gain all the weight in the world, if I could just feel better!".. and now I feel better, so I CHOOSE to love my body, even when my jeans are tight and I have to buy new bathing suits! This body has been through hell and back, and I am going to be as nice to my body (and mind!) as I possibly can. We will be in Hawaii in 5 weeks. I am not going to starve myself or do some miracle bootcamp workout to get into a smaller size bathing suit or dress by that time. It is not realistic and it is not healthy for me. I don't actually really CARE that I have a new, slightly larger body. Hopefully one day, I can work out again, and become stronger and healthier again. But, for now, I am getting used to it and I love myself more and I also LOVE that I am able to go on a trip with my boyfriend for his work. I also get to see my best friend, who moved there last year! I am very blessed.
Anyways, trying on bathing suits in a department store dressing room is not a good time y'all. I don't think it probably is for anyone, with any size body. We are our own worst critic anyways, and staring at yourself in all these weirdly lighted angles is not cool. LOL! So, after this fiasco, I took to the internet, searched high and low, and guess what?.. Freaking
Target
does it again. That's a hashtag, right? #targetdoesitagain ?? -- So, before my rant got going, I wanted to show you guys some of the suits I got after ordering several styles online and I will be going to the store to return the ones I did not like.
I am sure everyone's body is different, but when you are thin, or even athletic, you buy certain bikinis and you are good to go. You can loosen the sides of the bottoms, get a different top. Maybe you have a bigger chest, you get a bigger top or a more supportive top. Now, in one pieces AND tankinis, I found that I don't like the following features the most: a high back on the swimsuit (too tight and constricted feeling), a low back on the swimsuit (too much back rolling around back there), and too much fabric all around (feels like I am wearing loose, heavy, wet clothes when I get in the water). The ones pictured and linked below are the ones I kept and I will tell you why! Let's get to it..
I found a style that flattered me, and I guess I stuck to it! I got 3 tankini tops, shown and linked below. These tops are not tight on my back and stomach, but the material is thin enough that I don't feel like I am going to be floating in heavy clothes. The bra area around my torso is a little tight in the medium size, but I think I would be pulling up the size large all day, so I am going to stick to the mediums and hope they work! The top 2 have so many different patterns. I actually love them all, but these colors and patterns spoke to me. The material on the bottom is sheer, but not too sheer, and the straps are removable, as you can see.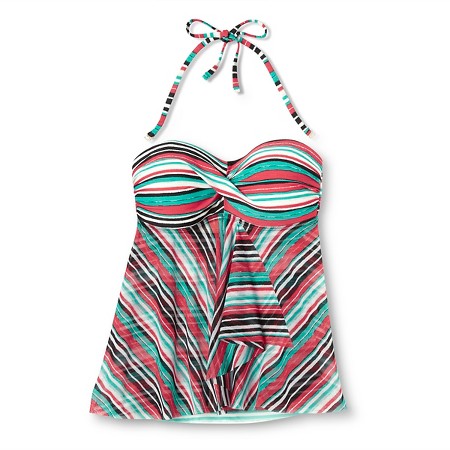 I was thinking I was going to send this next one back, because I liked the lightweight fabric of the ones above, but I ended up loving this one too. I always like to have a basic black piece with me on vacation too, so this is perfect.
Now, I know I have tons of old bathing suits, and I have always had curvy hips, so I usually go up a size in bottoms anyways. Some of my old black or solid bikini bottoms might still fit me, and I will dig through them, but how cute is this high waist swim brief, that covers everything, is not too tight, and just fits right up under those flowy tankini tops!? I got a large in these and they feel comfortable.
I almost forgot, I got a 1-piece as well! This also kind of follows the same rules I found out or created for my body - covers all of the right things, but there is not not too much fabric and the fit is not too tight. I also thought the royal plum color was really pretty and kind of different!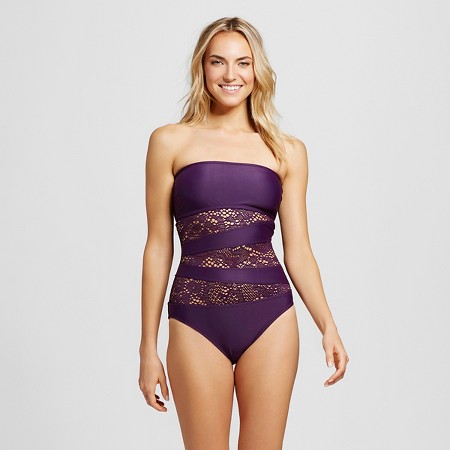 I hope this helped someone out there, someway, somehow. I feel like I opened up and became a little more vulnerable by sharing this with you guys - swimwear shopping and especially swimwear wearing - are very revealing and sometimes tough things for us to do as women. I want to really spread a positive body image message around though, and if you think swimsuit shopping sucks - I feel you girl!... But, take a moment to love your body parts. Be thankful for those hips that you bore children with, those breasts you breastfed with, those legs that you can walk on, those arms that can do so many things for you, that booty that you get to sit on.. all of these are blessings and I just want us all to be thankful for them, instead of putting ourselves down! Rock that body, girls! I love you all!
Where are you buying swimwear from this year?
Did you buy anything super cute that you want to share? Please do!
P.S. No, this post is not sponsored by Target, but I really wish it was!
XOXO,
GretchCannon